Registration is open for APPA's Fall Conference and Practice Manager's Mini Conference
October 4-5, 2019
Grand Bohemian Hotel Mountain Brook
Friday Oct. 4
ECP, RFM and Student Mini Conference 12 – 5 p.m.
Reception 6 – 8 p.m.
Saturday, Oct. 5
Educational Sessions 8 a.m. – 5 p.m.
Practice Manager's Mini Conference 8 a.m. – 1 p.m.
Register online
Print a Registration Form
2019 APPA Fall Conference agenda
Accommodations
Reserve a room by calling (888) 711-5114 and asking for the Alabama Psychiatric Physicians Association group rate or reserve a room online. Rates begin at $249 per night and apply for three days before and three days after our conference dates, based on availability. The room block will close Sept. 6.
---
2019 Spring Conference Wrap Up
April 5-7, 2019
Baytowne Conference Center, Sandestin, Fla.
Poster Winners
Congratulations to our top three poster presenters!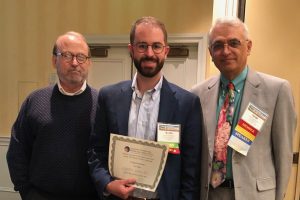 First place poster winner is Austin Luker, MD, UAB (center), for his poster, "The Human Side of medicine: Understanding Physician Burnout at UAB Department of Psychiatry." Dr. Luker is pictured with F. Cleveland Kinney, MD, PhD, and Tarak Vasavada, MD, DFAPA.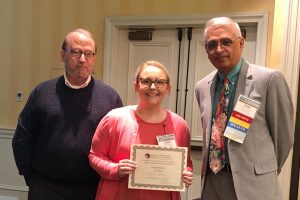 Second place poster winner is Taylor Ousley, USA, for her poster, "Hyperglycemia-Induced Resistance to Antipsychotic Treatment. Ousley is pictured with Drs. Kinney and Vasavada.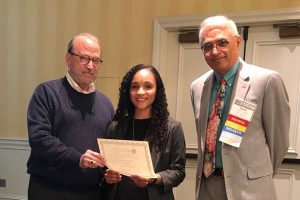 Third place winner is Jazmin Scott, USA, for her poster, "Clinical Course of a Patient Undergoing Delayed Withdrawal from Alprazolam (Xanax). Scott is pictured with Drs. Kinney and Vasavada.
Read all the submitted abstracts.
---
Future APPA Meeting Dates and Locations
April 3-5, 2020
Sandestin Golf and Beach Resort, Baytowne Conference Center
October 9-10, 2020
Marriott Legends Capitol Hill, Prattville
April 23-24, 2021
Embassy Suites, Montgomery
---
The Alabama Psychiatric Physicians Association is proudly managed by the Medical Association of the State of Alabama.